Building a healthier community takes a lot of hard work and dedication from all of us.  We at SHARE Foundation understand that being healthy means many things to many people, and it's more than eating healthy, fitness, and health care.  A healthy community also means caring for others in need, mental health care, developing lasting resources, investing in our community's growth, and teaching our youth healthy skills for a better future.
We are grateful for those in our community who share our mission to improve the health and wellness of southern Arkansas.  Our generous donors, partners, and supporters help keep our programs active and relevant to community needs.
2022 was a good year for SHARE Foundation and the communities we serve.  As our mission states, we aim to provide programs and services to further the health and well-being for the people in our community and surrounding areas.  In this report, you will see the impact each of our agencies have had through their civic duties.
Although 2022 had many celebrations, a couple of our programs came to an end.  Palliative Care of South Arkansas provided services to patients in their homes from 2020 until its grant funding ended in December 2022.  We are grateful to have provided this program and palliative care to our community.  Another program that ended in 2022 was the closing of the Life Touch Thrift Store.  Proceeds from store sales helped fund hospice care at Life Touch Hospice.  For many reasons, the store was closed.  However, we enjoyed our short time working in retail.  We appreciate all of the donations, volunteers, and new friendships we developed with our customers.
As the new year has begun and is quickly passing by, we look forward to what 2023 brings for our organization and the community.
Dr. Brian Jones
---

Chaplaincy Services:  Provides spiritual care, emotional support, and crisis ministry to hospital patients, their families, and employees.  The program offers Prayer Worship every 4th Wednesday of every month.  In 2022, Chaplaincy served 1,003 patients at MCSA. 
eXtreme Youth Programs: Provides programs designed to educate and motivate youth and families in the development of healthy, drug-free youth.  In 2022, EYP served over 4,500 students in Union County schools.  EYP hosted and participated in many activities.  SMART Moves had 76 students; Camp Desoto Boy Scout Retreat had 55 members; 5th Quarter had 26 students; CHAMPS (4th Graders in El Dorado School District) had 300 students and 15 adults; Youth Leadership Summit had 40 students and 20 adults; and Rachel's Challenge Assembly Program reached 2,400 students.  Many other activities were held where students and adults attended.
SHARE Grants: Provides funding in the form of grants to other non-profits that operate in Union County with programs that address violence and prevention.  In 2022, a total of eleven non-profits were awarded grants from VIP totaling $316,039. 
HealthWorks Fitness Center:  Provides wellness facilities and programs designed to impact adverse health outcomes while improving fitness and quality of life.  In 2022, HealthWorks' memberships were at 3,237 total members, including 13.6% general, 34.9% total add-on, 3.7% assistance program, 27.5% corporate, and 8.6% seniors.  HealthWorks purchased $60,000 worth of new fitness equipment, upgraded our televisions on the fitness floor, and made a transition to all digital in-house marketing. 
Interfaith Clinic:  Provides access to primary health care to uninsured adults aged 18-64 through medical visits, medication assistance, and referrals.  In 2022, Interfaith Clinic served 394 unduplicated patients with 1,338 encounters.  The value of services provided in medical care totaled $110,823, and prescription services totaled $330,171.  The potential impact to emergency room services without Interfaith Clinic would have totaled $4,161,258.
Life Touch Hospice:  Honors every moment in life by providing quality hospice care for those patients with life-limited illnesses and their families.  In 2022, 430 patients received care including 392 patient admissions.  Charity and uncompensated care totaled $93,200. 
Palliative Care of South Arkansas:  Providing quality care and support for patients with chronic, serious illnesses.  In 2022, there were 56 patient admissions and an average daily census of 45.  There were 21 PCSA patients that transitioned to hospice.  The program was successful in the development of a Strategic Plan for PCSA.  However, the program ended on December 31, 2022, due to the conclusion of grant funding. 
SHARE Scholarships: Paving the way for higher education to qualifying students.  In 2022, there were seven students that received SHARE scholarships that totaled $31,284.  Overall, SHARE Foundation has committed to a total of $933,792 to 229 students in 16-health related careers and one public education career.
---
Testimonials


---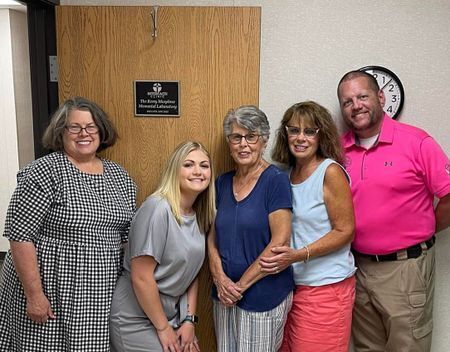 The Kerry Murphree Memorial Laboratory
On June 23, 2022, Interfaith Clinic held a ceremony to rename their laboratory in honor of Kerry Murphree, APRN.  Family, friends, and staff attended the dedication and honored Kerry by sharing memories and stories about her personal and professional life.   
Justin Murphree spoke of his wife, Kerry, and how working at Interfaith Clinic and serving her patients helped her get through some tough days.  He explained that even when she felt sick, she still wanted to go to work because she loved it.  The ceremony was full of warmth and a true celebration of Kerry's passion of caring for others. 
Kerry was a SHARE Foundation scholarship recipient and proudly became a nurse practitioner when she graduated with honors.  She worked at Interfaith Clinic as the nurse practitioner for 6 and a half years.  She had a successful nursing career as she was honored the 2017 Linda Stringfellow Spirit of SHARE award and recognized as The Arkansas Nurse Practitioner Associations, Nurse Practitioner of the Year in 2020.  Her passion for helping others, especially her patients, continues to be remembered in the community.   
A plaque saying The Kerry Murphree Memorial Laboratory now hangs on the door for all patients and staff to remember her by. 
---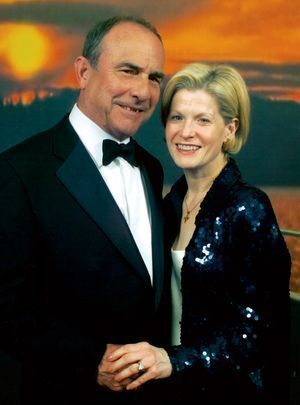 The Robert C. Nolan & Candice E. Nolan Memorial Conference Room
In October 2022, SHARE Foundation renamed the administration conference room in memory of Robert C. Nolan and Candice E. Nolan.  Robert, or "Bob," served on the SHARE Foundation Board of Directors and Strategic Planning Committee for many years.  He also served as an important partner and donor for the organization, specifically to Life Touch Hospice where his beloved, "Candi," received hospice care.   
Bob and Candi were two inspirational people with unique stories. 
Bob was a prolific business leader in multiple industries including petroleum exploration and drilling, banking, timber, farming, real estate, and more.  Along with his remarkable experience and business affiliations, he was a dedicated civic servant, philanthropist, and leader in his community.  He served on multiple boards, served as president or chair for various organizations, and participated in many committees. 
On a more personal side, Bob was a lover of nature and the outdoors.  He was generous and passionate in caring for his family, employees, friends, and business associates.  Many that knew Bob, knew of his affection for his wife, "Candi." 
Since an early age, Candi was active in theatre and arts programs.  She was a 4-Octave coloratura soprano singer.  Along with her beautiful voice, Candi won several beauty pageants including Miss Lawton (her hometown) and First Runner-Up to Miss Oklahoma.  She was cast and performed in many Broadway shows, such as Hair, Shelia, Tribe, Jesus Christ Superstar, Grease, and more.  Her most famous role was playing "Donna" on All My Children, a popular soap opera. 
Bob and Candi met by chance on an airplane, and they described it many times as destiny.  Prior to their marriage, Candi chose to retire from the stage and screen to move to El Dorado, AR, with Bob.  She said marrying Bob and moving to El Dorado was the "best role" she had in her entire life. 
SHARE Foundation is grateful to have partnered with the Nolans.  This picture along with a plaque saying The Robert C. Nolan & Candice E. Nolan Memorial Conference Room is now presented for all staff and visitors to remember them by when they visit the administration office. 
---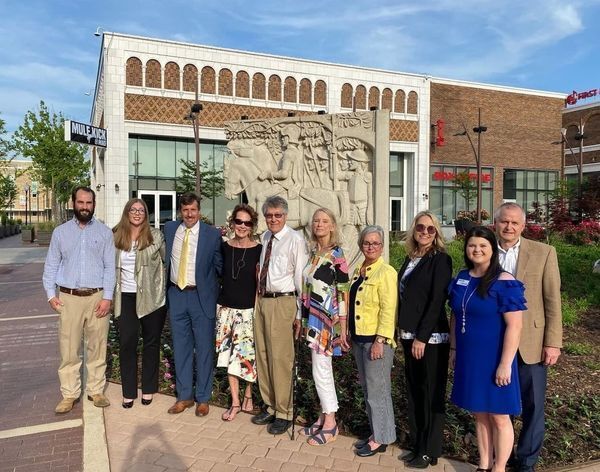 SHARE Foundation relocates the 40-year-old "History of Art" sculptures
Many are unaware that SHARE Foundation has developed a beautiful art collection through generous donations and gifts over the last 26 years.  The most locally recognizable pieces are the concrete sculptures created by Richard H. Ellis and Tony Sheets called "History of Arkansas," located at the Warner Brown Hospital in El Dorado, AR.  These sculptures have been proudly displayed on an exterior wall at the old hospital for 40 years. 
Through several years of planning, organizing, research, and collaborations, SHARE Foundation was finally able to relocate the art sculptures to preserve them and provide the public with better access and appreciation for the cherished artwork.  The concrete panels are now beautifully displayed at Murphy Arts District and the Southern Arkansas Historical Preservation Society. 
On May 4, 2022, Murphy Arts District hosted a reception to commemorate the art sculptures' relocation and honor SHARE Foundation.  In attendance were SHARE Foundation's Board of Directors, Murphy USA's Board of Directors, project leaders and partners, Richard H. Ellis (artist) and his wife, and other community leaders involved with the Artistic Development (Second Phase).  The reception was held at the Oil Derrick Park. 
To read more about the "History of Arkansas" art relocation project, continue reading the article provided in this link.  https://t.e2ma.net/message/9j3etg/tftrvs6
---

The IMPACT Star recognizes SHARE employees who perform a specific act that reflects a particular value or "live" by the values all the time as an example to others. The values of SHARE are Integrity, Motivated, Professionalism, Adaptability, Compassion, and Teamwork=IMPACT.
SHARE Foundation IMPACT Stars 2022
---

---
---
SHARE Foundation Board of Directors
SHARE Foundation President
SHARE Foundation Leadership
Barry Dobson

Chaplaincy Services Coordinator of MCSA

Holly Monroe, LPN

Interfaith Clinic Director

Britney Snell, MBA

Vice President of Finance

Melody Stried

Interim Life Touch Hospice Director

Amy Sturdivant, MA

Director of Mission Support

Debbie Watts

Vice President of Community Impact

Holly Wood, MA,MA

HealthWorks General Manager