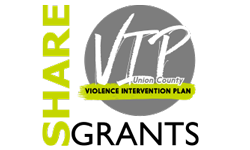 From 1997 through January 2021 SHARE Foundation has provided funding in the form of grants as an outreach into the county.  Over $8.25 million has been paid to 92 different qualifying not-for-profit organizations for grants and strategic initiatives. Our funding is currently focused on six priority areas addressed in the Union County Violence Intervention Plan (VIP).  
The Union County VIP is the result of broad community input and efforts over the past five years. Its evidence-based strategies broadly and proactively address crime and violence prevention and intervention beginning with our youth and families. VIP partners and leaders in this comprehensive effort are from area nonprofits, schools, businesses, law enforcement, healthcare professionals, churches, youth, as well as justice-involved individuals and others.
VIP Partners Envision a Day....When all of Union County Children and Families Have the Resources and Community Support They Need to Succeed
VIP Partners
Work together to recruit diverse stakeholders from multiple sectors
Assess needs and resources to identify community assets and resources
Choose effective and evidence-based programs to implement
Act on what's important and prioritize issues
Work with decision-makers and advocate for change
Keep the community engaged and informed
Measure impact and share results
Get Involved
If we as a community are truly committed to changing the odds for young people and families in need, we have to change the way we do business. No single organization or person can do it independently. We must work together like never before to generate a greater impact than anyone could ever achieve alone.
If you are involved in any effort that broadly and proactively addresses crime and violence prevention and/or intervention, VIP partners want to work with you.  You can be involved as a grantee or not, but if eligible you are encouraged to consider applying for a grant from SHARE Foundation. 
SHARE Foundation 2022 Grant Requirements
Grant funding priority areas are:
Re-entry
Mentoring and role models
Neighborhood watches and clean neighborhoods
Parenting and life skills
Jobs and targeted education
Mental health/substance & drug abuse
Grant funding is January – December and applications must be submitted before October 15, 2021, at 11:45 p.m.  Qualifying organizations with measurable evidence-based programs that broadly address crime and violence intervention and prevention are eligible to apply. Visit https://sharefoundation.com/our-agencies/grants-vip/vip.html to review the written VIP, the 2022 RFP (Request for Proposals), Grant Application, and suggested evidence-based strategies and outcomes.
To learn more about SHARE Foundation Grants, the Union County Violence Intervention Plan, or how to become involved call Debbie Watts, VP of Community Impact at (870) 881-9015.