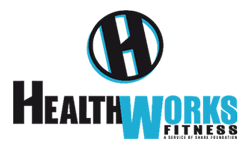 HealthWorks has everything you need to be healthy!
Building a Healthier Community since 2002
HealthWorks is an agency of SHARE Foundation, a 501(c)(3) not-for-profit public charity. It was in the spirit of building on what El Dorado already had in place that SHARE and the YWCA came together. In 2002, after several months of negotiations, the YWCA transferred its fitness facility and assets to SHARE. In 2003-2004 a $5.4 million dollar renovation and expansion project was completed and SHARE named the facility "HealthWorks Fitness Center". HealthWorks provides wellness facilities and programs designed to impact adverse health outcomes while improving fitness and quality of life. An invigorating world-class exercise facility offered at reasonable rates for individual and family memberships, HealthWorks has something for everyone. 
Since 2002, through the support of the SHARE Foundation, HealthWorks Fitness Center has offered Assistance Program Memberships to over 3,600 qualifying residents and their children/legal dependents (ages 12 and under). The Assistance Program offers preventative wellness services to low-income residents who have a medical necessity for a health and fitness program.
Whether you are new to exercise or an experienced athlete, HealthWorks Fitness Center is the right place for you. We are a diverse community with a culture focused on fun and hard work. All our members know each other's names and support one another during workouts. HealthWorks Fitness Center will help you reach your goals and get into the best shape of your life.
An interview with Mr. Thomas Kelly
How long have you been a member here?
"I have been a member since 2014. I came here in my 80's and will be 92 on my birthday this year. I came to HealthWorks because of a referral from the VA hospital. I told them to send me to a rest home for a month so I can rest and they sent me here instead!"
How has HealthWorks helped you stay healthy?
"I pray over my health daily!  My regular visits to HFC keeps me feeling good! I feel that walking, my pool time, and the steam room and sauna keep me healthy, relax my mind, and energizes me. I love to walk for 30-40 minutes to take care of my heart."
Words of advice to other members
"HealthWorks has everything you need to be healthy! Be faithful and come, get and stay with a system that works for you."
HealthWorks thru the years