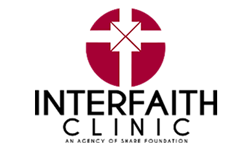 Interfaith Clinic is a not-for-profit medical clinic that serves low-income patients in Union County, AR, and has been an agency of SHARE Foundation since 1997.
In 2020, Interfaith Clinic had 3,729 patient encounters during the pandemic and helped patients receive $795,418 in medications at no cost to them!
Interfaith Clinic strives to meet the needs of underserved patients especially those with barriers to care. In the last couple of years, Interfaith has seen a rise in Hispanic patients who are low-income and do not speak English fluently; understanding the medical system is extra challenging for this population.
Interfaith Clinic has enlisted a team of volunteers who are able to translate for these patients. Ten hours a week sometimes is designated for visits for Spanish-speaking patients. Some of our translators include the ESL (English as a second language) instructor from the local college, a previous patient who helps translate for the school district, and a Pre-Med student from Emory University.
The Hispanic patients at Interfaith have often not seen a provider due to language barriers and other cultural fears. Interfaith Clinic has provided a gateway to care by partnership with Arkansas Breast Care to get breast and cervical exams and mammograms for free for this population, as well as, free medications, lab tests, and minor surgeries.
With the help of grants and local partners, two Hispanic patients were able to get much-needed biopsies to rule out cancer, and another was able to have a painful abscess treated so he could return to work.