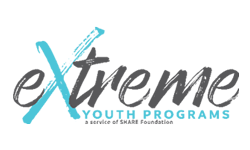 Programs
---
eXtreme
eXtreme is a drug prevention program that trains 8th through 12th grade students to take the lead in drug and violence prevention. Through community outreach, drug education, drug-free activities, community service, and social and emotional awareness, eXtreme encourages students to reach out to their peers, younger students, and the community with an assertive drug-free and violence-free message.
ECHO Challenge
ECHO Challenge is an exciting program that promotes opportunities for positive peer relationships and collaboration. ECHO Challenge emphasizes the importance of cooperation, support, relationships,  leadership, and communication in promoting healthy lifestyles and deterring self-destructive behaviors.
Smart Moves
The SMART (Skills Mastery and Resilience Training) Moves prevention and education program presented at the Boys and Girls Club, addresses problems such as drug and alcohol use. SMART Moves uses a team approach that involves Club staff, eXtreme Youth peer leaders, parents, and community representatives. Participants in grades Kindergarten through 4th grade are engaged in discussion and role-playing, practicing resilience and refusal skills, developing assertiveness, strengthening decision-making skills, and analyzing media and peer influence.
South Arkansas Teen Sumit
The South Arkansas Teen Summit brings together drug-free youth for an exciting day of team-building activities, group discussion, and personal reflection to become empowered to be more caring and confident peer leaders.  Workshops focus on leadership development, drug and alcohol awareness, resistance skills, personal safety, peer education, bullying, violence prevention, suicide awareness, service, and community/environment awareness. Summit attendees will have the opportunity to network with other youth in surrounding south Arkansas schools to learn how collectively their voices make a huge impact on their community.