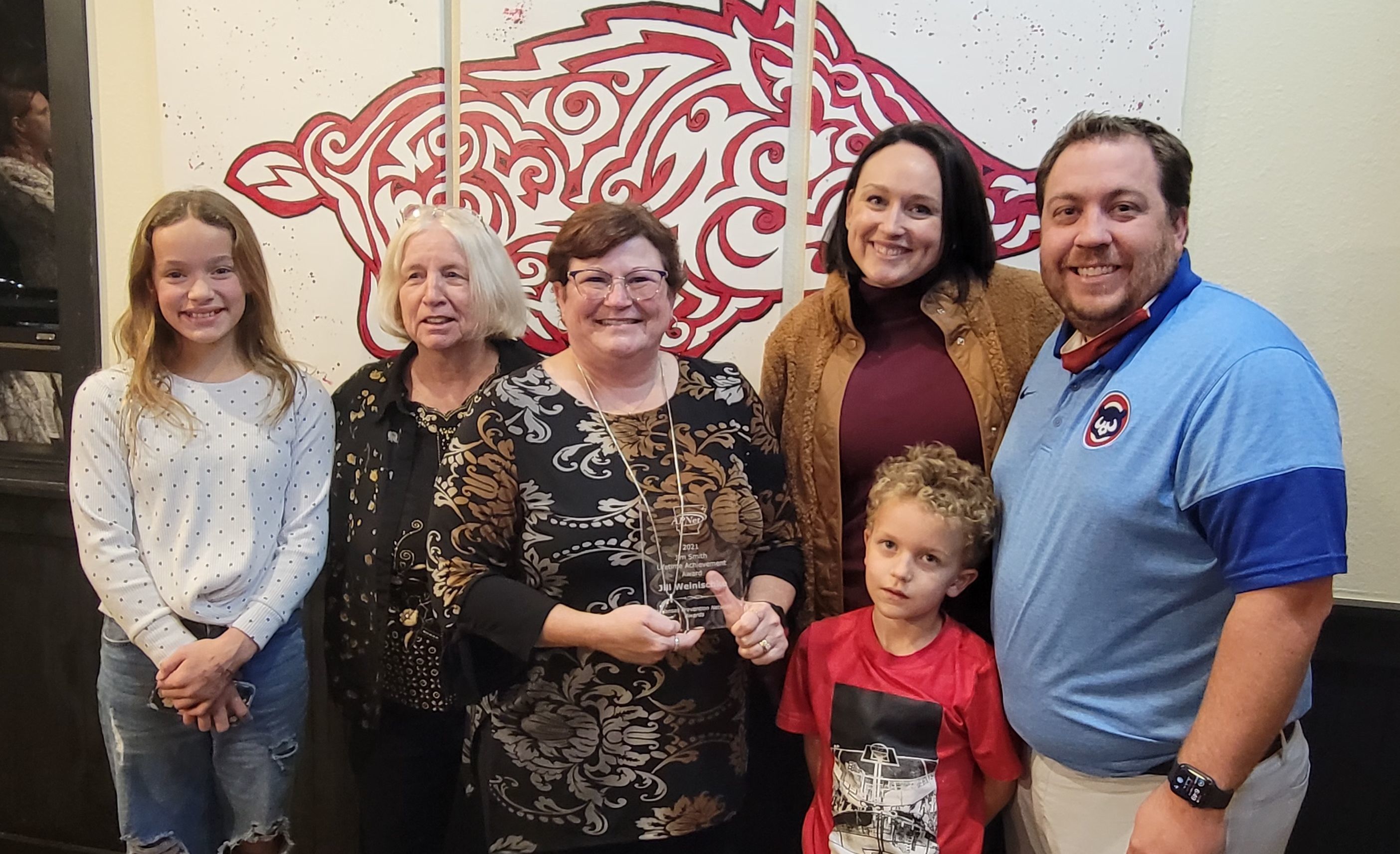 Jill Weinischke, Community Impact Manager for SHARE Foundation, was awarded the Jim Smith Lifetime Achievement Award by the Arkansas Prevention Network at their meeting last week in Rogers, AR.
The Jim Smith Lifetime Achievement Award recognizes individuals who have made a significant career impact over a minimum of 15 years and honors them for outstanding contributions to the prevention field in Arkansas. This award is in honor of Jim Smith, who served as Coordinator of the Region One PRC from the early '90s until his retirement in 2006. Jim's knowledge and understanding of prevention were known across the state and at national levels. Much of Jim's energy focused on grant writing to bring more dollars into the prevention field in Arkansas and was a strong supporter of statewide prevention programs. Over the years, his example and mentorship of Arkansas professionals helped many succeed in grant writing, prevention program development, seeking state and federal funds, and becoming prevention certified.
Jill Weinischke models this example within her role in Arkansas substance abuse prevention and is a Certified Prevention Specialist. Jill works for SHARE Foundation doing youth substance abuse prevention with eXtreme Youth Programs and manages work of the Union County Violence Intervention Plan in south Arkansas. She also oversees the day-to-day operations of the Drug-Free Communities Grant recently awarded in 2021.
"When talking about Jill Weinischke, there are so many great things that can be said. Jill is very knowledgeable and passionate about prevention, and she will do anything to help others," says Deb Crawford, Project Coordinator for Community Clinic. She adds, "I had the pleasure of working with Jill on a daily basis for 11 years. It was common to arrive at the office and see Jill already hard at work finding ways to aid her local community. Also, at what most would consider the end of the day, Jill would still be hard at work, often at late night hours, searching for grants for not only SHARE Foundation but also for other organizations that she could see as potential prevention partners in Union County." 
Jill's character and love for people have consistently been demonstrated in her interactions with staff, students, partners, and others she meets. When colleagues speak of Jill, they commonly say they have witnessed her thinking about others first and putting their needs before her own, often demonstrated in her dealings with local youth. One colleague said, "Jill has stopped what she was doing to jump on a school bus to make sure that the student members of the eXtreme Youth Programs were able to join trainings and prevention activities." Jill's love for faith, family, and people make her a rare jewel and deserving of this award.