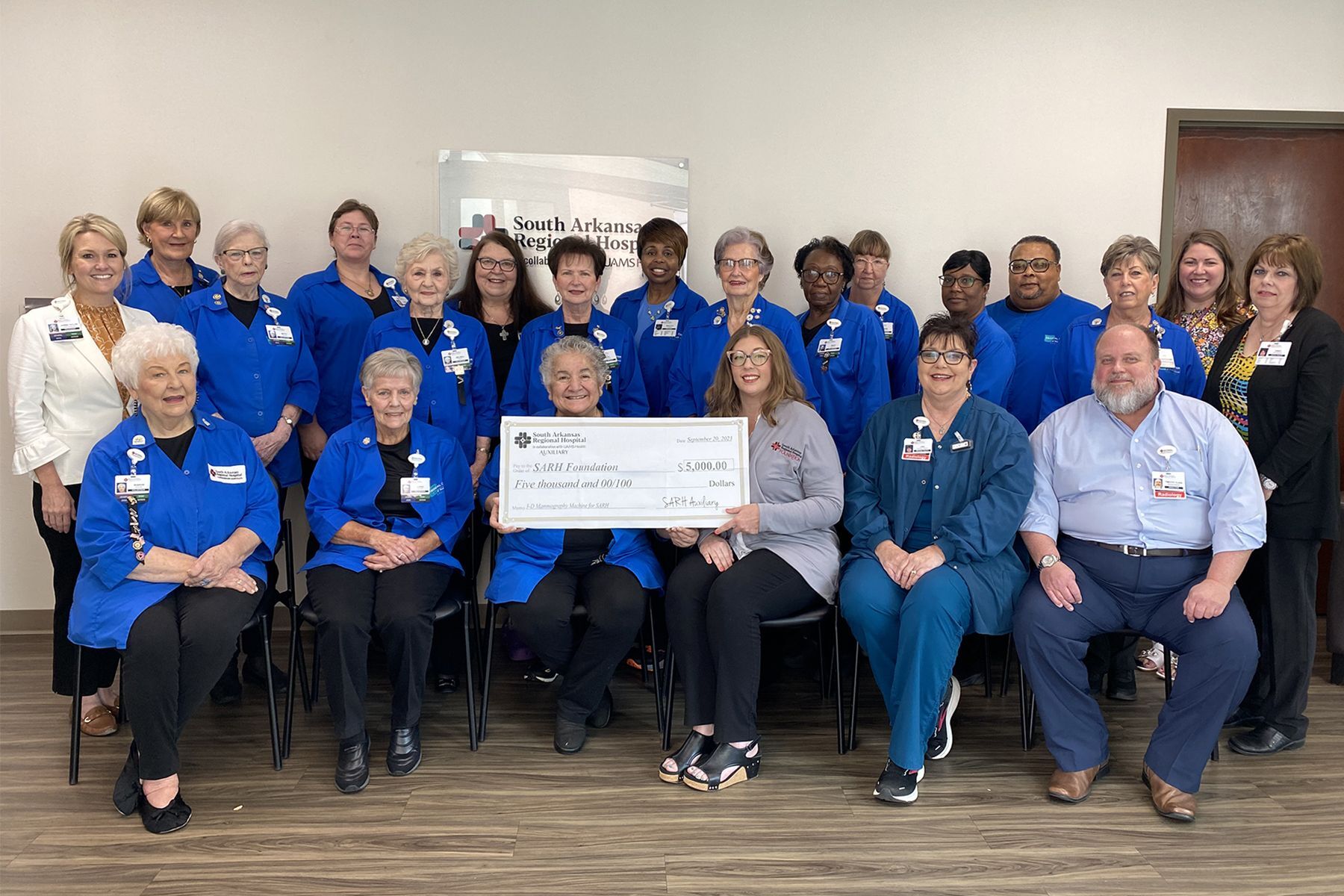 On Wednesday, September 21, 2023, South Arkansas Regional Hospital (SARH) Auxiliary donated $5,000 to the SARH Foundation for their first campaign to purchase a new 3D Mammography machine for the hospital. Having this machine at SARH will provide women with local screening and diagnostic services currently unavailable at the hospital.
Previously known as MCSA Auxiliary, SARH Auxiliary is a nonprofit charity organization with the mission to support SARH by being the main source of volunteer support with many volunteer positions and projects that provide service and support to patients, visitors, staff, and our community. If you have visited the hospital, you have surely met or have seen an Auxiliary volunteer. Auxiliary volunteers operate the SARH Gift Shop and are seen throughout the hospital in various volunteer positions, whether it's greeting patients and families or directing visitors towards the right location. Auxiliary conducts many fundraisers throughout the year, and they have a scholarship program through SHARE Foundation called the SARH Auxiliary Helen Wright Memorial Scholarship that pays tuition and books for students pursuing healthcare careers.
SARH Auxiliary and the new SARH Foundation have developed a strong partnership and bond in serving the community through the hospital. SARH Foundation is an agency of SHARE Foundation whose mission is to raise funds to support South Arkansas Regional Hospital initiatives and to purchase priority medical equipment that maintains and improves the quality of care for patients. Therefore, both the SARH Auxiliary and SARH Foundation work together to serve SARH in various capacities. SARH Foundation is grateful for the Auxiliary volunteer team and their support.
Donations are still needed to reach the $500,000 goal of purchasing the 3D Mammography machine for SARH. If anyone would like to make a donation, please contact Amy Sturdivant, SARH Foundation Executive Director, at asturdivant@sharefoundation.com or call 870-881-9015 ext. 5. Donations can be made securely online at www.sarhfoundation.org.